Previous Product
More Products
dothHelp Desk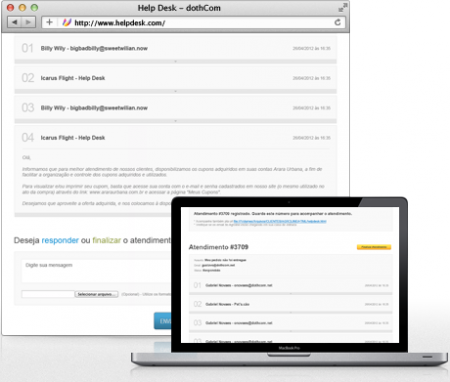 The doth HelpDesk is the solution to centralize and streamline all message exchanges between company and customer. Improve communication with your customers and the loss of information with doth HelpDesk.
I want this one
The dothNews is the solution for managing news sites, The dothHelp Desk is the solution to centralize all message exchanges between the company and the customers, partners and suppliers. The intuitive system lets you easily organize all your support requests and ensure that all customers receive accurate answers and timely.
Contact our consultants to better understand our help desk solution.
Management

Multi-users;
Warnings interactions.

Advantages

Improving communication with the client;
Eliminate the loss of information;
Decrease the number of SPAM.

Customization

Design custom;
Predefined Replies;
Want this one?